J.T. Brooks tire deflators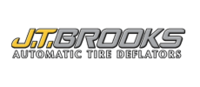 If you want to achieve significant traction on dirt trails and rough patches of terrain, you may want to consider deflating your tires. Few companies have as much experience in this field as J.T. Brooks. Founded in 1984 by two enterprising 4WD enthusiasts, J.T. Brooks specializes in making innovative tire deflation tools that make deflating your tires less taxing and convenient than manually airing them down using a sharp object and a tire gauge as most off-roaders do.
The J.T. Brooks deflators feature nickel-plated brass construction for guaranteed durability. When doing it manually, you have to deflate each tire individually, checking the tire pressure repeatedly to ensure that you don't go lower than your intended tire PSI. As expected, this method is seldom accurate, and you are unlikely to achieve similar deflated tire pressures at all four tires. The
J.T. Brooks Automatic Tire Deflators
will save you the time, frustration, and exhaustion of squatting down and deflating your tires manually. They are packaged as four deflators, making it possible for you to deflate all the tires simultaneously; this saves time and makes the process less tedious.
PRODUCT CATALOG
KEY CHAIN TIRE DEFLATORS
The J.T. Brooks Key Chain Tire Deflators are designed to screw onto a key chain holder. Each of these mini deflators can be screwed onto the valve stems of your vehicle's tires. When screwed onto your tire valve stems, they allow rapid deflation. It would help if you had a tire gauge on hand to keep checking the tire pressures as they reduce. When the tire reaches your target tire pressure, unscrew the deflators and screw them back onto their keychain holder.
AUTOMATIC TIRE DEFLATORS
The J.T. Brooks Automatic Tire Deflators, which come in sets of four, make it even easier to deflate your tires. Before being used, these deflators must first be calibrated using the instructions on the heavy-duty plastic instruction card included in the protective plastic bag that comes with the deflators. Once calibrated, you use their lock rings to secure the setting. After that, you can screw each deflator onto the four valve stems of your tires and deflate the tires simultaneously. By turning their manual activation knobs, you'll start the deflation process. They will deflate your tires to the tire pressure limit you initially calibrated and shut off automatically upon reaching that limit. These deflators are adjustable from 6 PSI -32 PSI.
AUTOMATIC TIRE DEFLATORS PRO
The J.T. Brooks Automatic Tire Deflators Pro are different from the regular Automatic Tire Deflators. They add a precision laser engraved PSI scale that enables to calibrate them with even greater precision. These deflators are adjustable from 3 PSI -32 PSI.
We at 4x4Mods Australia offer the best prices for J.T. Brooks products, so make a purchase today. We also keep our warehouses stocked with these products to consistently meet the needs of dedicated J.T. Brooks customers like you. Also, we ship these products to all corners of Australia using TNT, TOLL IPEC, and Australia Post so that you can get your order in as little as 1-2 working days. If you have any questions about these J.T. Brooks products, chat with our online representatives here on our website.